THRIFTY COOKING IN THE DOCTOR'S KITCHEN: THE STORECUPBOARD
In BBC Food's new series, Thrifty Cooking in the Doctor's Kitchen, Dr Rupy Aujla makes dishes that surprise even the most seasoned of food writers with their high-impact flavour and low cost. How does he do it?
If you're on a tight budget, a carefully chosen selection of store cupboard items will transform a cheap weekly shop into food fit for a queen. We've put together our recommendations for a store cupboard to make the recipes in Thrifty Cooking… for around £1 per portion. Plus each of our guests have recommended their own must-have ingredients.
THE BASICS
Extra virgin olive oil and vegetable oil/sunflower oil Wait, we've just started and already I have to buy two of the same thing? No, extra virgin olive oil and a flavourless oil such as vegetable or sunflower oil are not used for the same purposes. While most cooking can be done with cheaper oils, you will only need a small bottle of EVOO to use in dressings or to drizzle over pasta for oomph. Save your money and don't use EVOO in cooking where high temperatures can spoil its flavour. Use the flavoured oil from a tin of fish, a jar of roasted peppers or sundried tomatoes to give your cooking a boost. Store it in the fridge for up to a week.
Vinegar Not just for sprinkling on your chips, a little acidity or sourness is important to give food a perky lift. We recommend buying white wine or cider vinegar for all-round use. These are fairly interchangeable. Distilled white vinegar is cheaper but somewhat rougher in flavour. The flavoured vinegar from a jar of pickles can be used with a little EVOO to make an instant light dressing for salads.
Stock is used in soups and gravy, but is also great to add flavour to grains like Dr Rupy's spiced baked rice. The cheapest form of stock is cubes, although powdered bouillon is similar in price and you can just use as much as you need.Jelly pots and concentrated stock in bottles are more expensive, but some people prefer the taste.
Or make your own homemade stock for next to nothing. Melissa Hemsley says, "I keep a re-usable baggie in the freezer, and add to it. Maybe those swede peelings today, a bit of leek next time…" Add herb stalks, celery tops, carrot ends, and it will all add up. Add it straight to the stockpot when you're ready to make vegetable stock or meat stock. A friendly butcher might even give you bones for free (or very cheaply).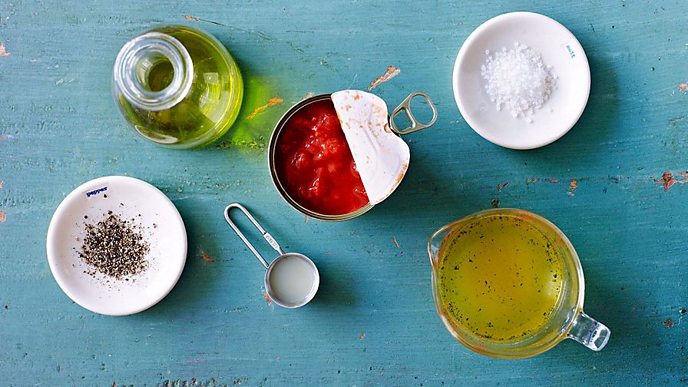 Soy sauce There are several different types of soy sauce, so why do recipes rarely specify which one? If you are looking for a soy sauce that adds saltiness to your dinner, go for light soy sauce. Use it sparingly – you can always add more, but too much may ruin a dish. Dark soy sauce is a bit less salty and lends a dark caramel colour to dishes like Dr Rupy's teriyaki tofu salad. A trip to an Asian supermarket (if you're lucky enough to live near one) will sell many types of good-quality soy sauce at bargain prices. If, like Dr Zoe, you like a lot of far-east Asian food, get both.
Honey is variable in price and taste, but even an inexpensive jar can be used to add a lot of flavour to a dish. Blended honeys are cheaper, but they are made in the same way as more expensive single flower honeys, so don't feel you are getting an inferior product. Set honey contains less fructose and more glucose, so crystallises quicker, but one is not better than another. (All honey will set over time. This does not affect the taste.) If your honey has set and you need it to be liquid, set the jar in a bowl of warm water to melt the crystals.
OUR TOP 10 SPICES AND HERBS
Everyone has a view on the must-have herbs and spices to keep in the cupboard. Even just a few basic herbs and spices can be used in different quantities and combinations. Jack Monroe admits to writing 100 recipes for her first book with just three spices: paprika, cumin and turmeric.
This is our top 10 to buy, in a highly debatable order. Buy them over time as a regular investment – a reduced-price "whoopsie" purchase will rarely yield as much value as £1 spent on a spice. Most of these spices are available to buy in 100g bags at a much cheaper price per gram than a jar.
Cumin is a must-have according to most of the Thrifty Cooking guests. Not only is it good for curries, but also Middle Eastern or Mexican food. Buy seeds if you don't mind grinding it yourself, as they will last longer.
Paprika (smoked or not) is has a bit of a smoky taste that can round out a curry or chilli. Miguel Barclay recommends smoked paprika for lovers of chorizo, as the flavour can be also be added to veggie dishes.
Curry powder: A blend you really like will make a easy curry or soup out of anything. The BOSH chaps love it for its convenience.
Chilli flakes are one of Rukmini Iyer's favourites to make a simple dish look and taste great. "Bloom" chilli flakes in hot oil to release their flavour. This flavoured oil is great for drizzling on dal.
Dried thyme is a favourite of Melissa Hemsley. This woody herb so it dries really well and retains its flavour. Use with dried oregano in place of a separate pot of dried mixed herbs.
Dried oregano is not just for pizza flavour, add to Mexican dishes or Greek dishes.
Turmeric will brighten up dal, rice, fritters, potatoes, everything gets the Midas touch with turmeric. One for fans of coconut and chillies.
Coriander has a fruity, floral, orange taste that is an essential part of many lighter curries and makes carrot soup iconic. If you have coriander, cumin and turmeric you can make your own easy curry powder blend for convenience.
Cinnamon can be used in savoury and sweet dishes. Cinnamon is common in Middle Eastern and north Indian stews and curries. A little dusting will enhance food's sweetness.
Dried mint is never going to make a mojito, but it will make a passable tzatziki and work in marinades.
These quick pickles brighten up your budget dishes and pack a flavour punch. Keep for a week in the fridge.
SPECIAL MENTIONS
While everything above forms the basic store cupboard for our Thrifty Cooking recipes, we wouldn't feel right without mentioning some absolute heroes of the store cupboard.
Tinned tomatoes are Jack's Monroe's Mastermind subject and a staple ingredient of many the Thrifty Cooking recipes – veggie jambalaya, pasta sauce, mushroom curry, and chipotle bean stew. Always keep them in your cupboard.
Tinned fruit is there for you when you need it. You can ignore tinned fruit for ages and it won't go wrinkly or brown on you. Either straight up as a snack or in savoury dishes like Jack's kidney bean curry or Rupy's tinned pear crumble. Top recommendations are pineapple, peaches and pears.
Frozen spinach is used in several recipes like the Afghani-style bolani, vegan meatballs and vegetable filo pie. It is so much cheaper than fresh spinach and will last for months. Defrost as much as you need and squeeze the water out to ensure your dish isn't too soggy
Onions should always be in your cupboard. Not only do they count as part of your 5-a-day, but they are the flavour basis for so many dishes. Red onions are great, too, adding colour and sweetness to Dr Rupy's halloumi traybake or a jar or bright quick pickles.
Garlic has a lot of gut health benefits as well as being delicious. There aren't many Thrifty Cooking dishes that don't use garlic. A clove of fresh garlic costs about 4p. But if you find yourself throwing it out as it's growing green sprouts, you could buy a jar of garlic granules. These will last considerably longer.
Wholemeal plain flour Yes, white flour might crop up in more recipes but if you want to get maximum nutrition for your money, wholemeal is the way to go. For making flatbreads or soda bread, healthy pancakes or even wholemeal scones, using wholemeal flour is an easy way to get extra fibre and nutrients in your diet. Atta or chapati flour is a wholemeal flour that is sold in bulk very cheaply. Dr Rupy uses it in his Afghani-style bolani and mushroom curry with quick chapatis.
Dried beans and pulses You'd be amazed how long we can spend debating the pros and cons of dried versus tinned beans. You can get twice as many dried beans for your money, making Dr Rupy's chipotle bean stew cost 47p per portion. However, no one can deny the convenience of opening a tin of beans and bunging it into a 15-minute meal like the chilli bean stir fry. Dr Rupy's solution? Batch cook the dried beans and freeze them in a box so you get the best of both worlds.
---