HOW TO EAT WELL FOR ABOUT £1 PER PORTION WITH DR RUPY

Dr Rupy Aujla, a.k.a The Doctor's Kitchen, is back on the BBC with a new series on delicious, healthy, affordable and simple cooking. In Thrifty Cooking in the Doctor's Kitchen, he teams up with foodie friends, including storecupboard cooking queen Jack Monroe, roasting-tin meals star Rukmini Iyer and vegan sensations BOSH, to offer tips and tricks to make cooking healthy dishes easier and cheaper. Dr Rupy cooks up a storm, with easy veg-packed meals – and at around £1 per portion, they're a steal!
"These are the recipes I make for myself", he says. "Like many people, I'm short on time, so meals need to be quick as well as healthy, thrifty and delicious." With 20 recipes, you're set for almost three weeks' worth of new dishes, but they're so simple you can make them again and again!
TRICKS TO MAKE HEALTHY DISHES TASTE LUXURIOUS
You won't miss the meat with Rupy's filling mushroom and chickpea curry
Dr Rupy has clever ways to make healthy dishes taste luxurious. "The creamy mushroom pasta (£1.36 per portion) might be my favourite", he says – it has a surprising healthy ingredient that gives it 10/10 on the creamy scale. The Afghani-style bolani vegetarian stuffed baked or fried flatbreads (72p per portion) will also feel like a treat. And you won't miss the meat in chunky vegan meatballs (74p per portion) and filling chickpea curry (78p per portion).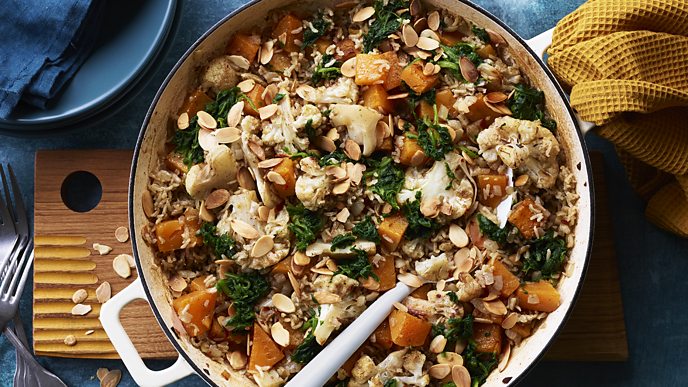 "The cheapest ingredients are often the most nutrient-dense", says Rupy. Tinned and dried beans, legumes, grains, and frozen and many fresh veg are all low cost. He has tricks to "bring the best" out of humble produce, caramelising onions and mushrooms to coax out their sweet, rich flavours, frying spices to release their aromas, and using dried herbs to flavour dishes. Melissa Hemsley joins Rupy with suggestions for making the most of food waste to save cash too. Whether you're "saving for a holiday or just realising how much you spend on food", everyone can use these tips to make budget-friendly meals.
Try the cheapest recipes of the series: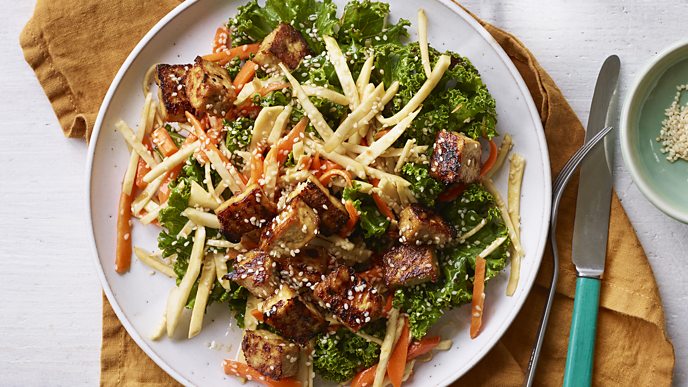 A sauce or dip can turn a good dish into a great one. It's worth learning a few recipes and keeping a couple of these finishing touches in the fridge to add to your dishes during the week.
Sweet teriyaki dressing and zingy zhoug taste as good as they sound drizzled over Rupy's root vegetable salads (£1.15 per portion) and roast vegetable hummus bowl (£1.01 per portion). "I put tzatziki on everything", he says, it's "great in sandwiches", and on his vegetable and halloumi traybake (£1.14 per portion). There's also a bonus recipe for fridge-raid pesto – perfect on pasta, salads, sandwiches, fish and chicken.
It's great to make (or buy) a pickles to add to your dishes too. A quick pickled onion lifts almost any meal. Try it in Rupy's aubergine and black bean bowl (£1.04 per portion) – don't forget the tortilla chips!.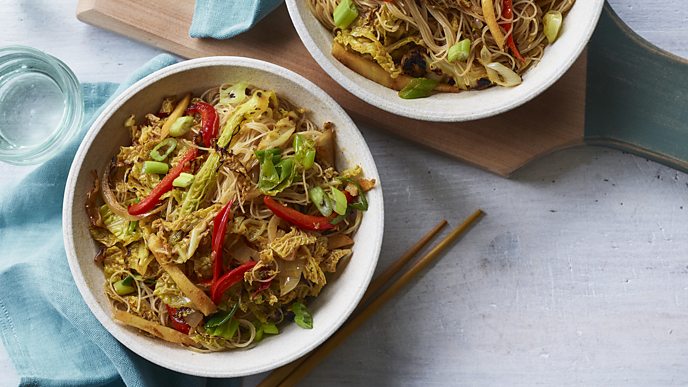 Eating well doesn't mean you have to miss out on your favourite Friday-night or weekend dinner traditions. Swap the takeaway for a homemade fakeaway. Rupy's Singapore noodles (92p per portion) and chilli bean stir-fry (£1.03 per portion) are super-quick to make, and at a fraction of the cost of a typical takeaway, you can't afford not to.
Many of us love a Sunday roast, and Dr Rupy is no different. To make things easier, change up the traditional Sunday lunch for roast chicken with veg (£1.27 per portion) cooked in just one pot. Using the juices released from the chicken to their full potential, the vegetables and pearl barley are deliciously seasoned. A vegetarian option that truly holds its own at a Sunday lunch is Rupy's green vegetable and feta filo pie (£1.17 per portion). It's crispy, crunchy and super satisfying!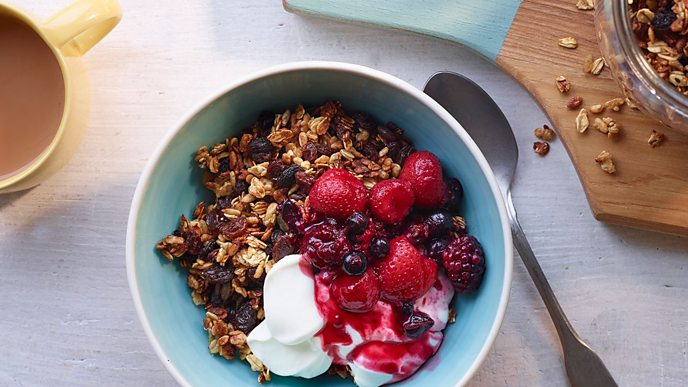 Eating healthily is important, but you can "have your cake and eat it", according to Dr Rupy. He proves this with tasty recipes that work equally well for breakfast or dessert, including spiced granola with berry compote (73p per portion). Even Jack Monroe – the queen of tin can cooking, who admits she has a super-sweet tooth – stamps his healthy pear, apple and ginger oaty crumble with sweet yoghurt (56p per portion) with her impressive seal of approval.
---